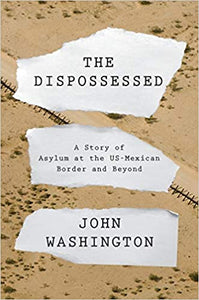 The Dispossessed: A Story of Asylum and the US-Mexican Border and Beyond
Regular price
$24.95
Sale price
$26.95
The Dispossessed
 by award-winning Nation writer John Washington tells the story of a twenty-four-year-old Salvadoran man, Arnovis, whose family's search for safety shows how the United States—in concert with other Western nations—has gutted asylum protections for the world's most vulnerable. Crisscrossing the border and Central America, John Washington traces one man's quest for asylum. Arnovis is separated from his daughter by US Border Patrol agents and struggles to find security after being repeatedly deported to a gang-ruled community in El Salvador, traumatic experiences relayed by Washington with vivid intensity.
Adding historical, literary, and current political context to the discussion of migration today, Washington tells the history of asylum law and practice through ages to the present day. Packed with information and reflection, 
The Dispossessed
 is more than a human portrait of those who cross borders—it is an urgent and persuasive case for sharing the country we call home.
---
More from this collection