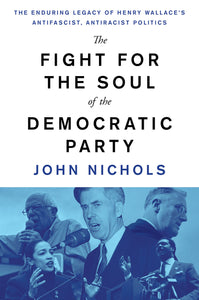 The Fight for the Soul of the Democratic Party: The Enduring Legacy of Henry Wallace's Antifascist, Antiracist Politics
Regular price
$22.99
Sale price
$25.99
Seventy-five years ago, Henry Wallace, then Vice President, mounted a campaign to 
warn about the persisting "Danger of American Fascism." As fighting in the European and Japanese theaters drew to
a close, Wallace warned that the fascist threat that the U.S. was
battling abroad had a terrifying domestic variant, growing rapidly in power: wealthy corporatists and their allies in the
media. Wallace warned that if the New Deal project was not renewed and expanded in the post-war era, American
fascists would use fear mongering, xenophobia, and racism to regain the economic and political power that they lost.
Wallace's political vision - as well as his standing in the Democratic Party - were quickly sidelined. In the decades to
come, other progressive forces would mount similar campaigns: George McGovern and Jesse Jackson more
prominently. As The Nation's John Nichols chronicles in this timely and hotly-anticipated new book, they ultimately failed - a warning to would-be reformers today -
but their successive efforts provide us with insights into the nature of the Democratic Party, and a strategic script for
 the likes of Bernie Sanders and Alexandria Ocasio-Cortez.
---
More from this collection